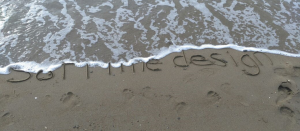 Every few years when our family returns to the U.S. we inevitably make a trip from Texas to Florida to visit my parents. A little more than half-way there we  stop in to see my husband's Aunt Ellen and Uncle Bob in Gulf Shores, Alabama.  After a tired day of driving we are so thankful to be greeted by family and Aunt Ellens' amazing hospitality. Her beautiful beach-theme decorated home sits on a quiet street near the river Bon Secour which means safe harbor.   Uncle Bob has taken us on a boat tour and he traps blue crab which Aunt Ellen puts into a Cioppino (Italian fish stew). The stew includes up to 7 kinds of seafood. Sometimes she makes a Low Country Boil which includes sausage, shrimp, cob corn, potatoes and spices!
Low Country Boil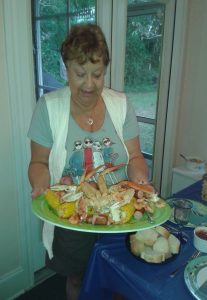 We try to stay a couple days to break up the travel and it has been so much fun to get to know the area. We have been to Lambert's Café about 8 miles from the Gulf Shores. They tout being the "home of the throwed rolls"! This was such a fun place to take our kids and we had fun catching the rolls thrown by the waiters! Another fun restaurant is called Lulu's located in Gulf Shores. It is next to the Intercoastal Waterway that runs from Mobile Bay to Pensacola Bay about 2 miles from the beach in Gulf Shores.  Lulu's is run by Lucy Buffet, Jimmy Buffet's sister!  They grew up in Mobile and he stops in sometimes.  These two places should be put on your must-see list if you are visiting  the Gulf Shores.

One fascinating story that Uncle Bob told was about the filming of the Forest Gump movie. The scenes with Bubba Gump featured Bayou La Batre, which is near the Gulf on the other side of Mobile Bay.

Last but not least is the beach at Gulf Shores! We relaxed on the sandy shores and had a great day! Gulf Shores, Alabama is a great place to visit! Take your time, relax and try some seafood! Plan your trip today and don't forget to pack your Turkish towel! You will not regret bringing yours along! Packs small, dries quickly – beautiful and absorbent!